Passport Magazine and 66 Films are Finalists for the 2021 Folio: Eddie & Ozzie Awards. The prestigious awards program celebrates excellence in content, design, and digital innovation across the entire publishing landscape, welcoming submissions from all types of content producers, digital publications, magazines, regional titles, associations and brands. Folio, the publishing industry's go-to source for news, business intelligence and peer-to-peer networking produces the esteemed award.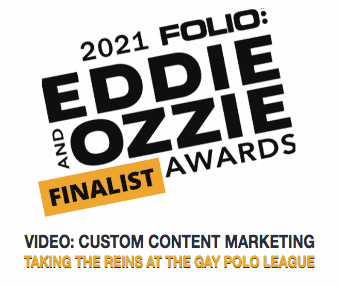 The Art Shooting Polo
Passport Magazine's "TAKING THE REIGNS. which was shot, directed, and edited by award-winning Miami video production company 66 films and lead Director/Filmmaker Freddy Rodriguez, is now shortlisted as finalists for an Eddie and Ozzie Award in the Custom Content Marketing (Video). The Lexus branded video showcases the Gay Polo League (GPL) of South Florida's two most prominent Polo players, Argentinian-born Gus Larossa and Tiffany Busch, heiress to the Anheuser-Busch family, and their respective love for the art of Polo.
Our program recognizes the hard work and creativity in media publishing and despite these challenging times, we believe it's important to find ways to celebrate and connect our community in a meaningful way" says Folio's Content Director, Causey Welton.
Helping Lexus build an inclusive brand
The brainchild of Publisher Don Tuthill and creative partner Robert Adams, "TAKING THE REIGNS" won a 2021 Telly Award earlier this year and is produced by long time brand collaborator, filmmaker Freddy Rodriguez along with his award-winning Miami-based video production company and creative video agency 66 Films.
Collorating with a global brand like Lexus and Passport Magazine is always a thrill and like 66 Films, Lexus and Passport support equity and inclusivity in advertising." says 66 Films lead, Freddy Rodriguez
Among the many highlights in the video is stunning aerial work by 66 Films lead drone pilot Ed Zak along with Rodriguez's stunning 4K cinematography. "TAKING THE REIGNS" was shot on the Lumix SH1 and Rodriguez's go to Contax Zeiss vintage lenses. When asked why he puts vintage lenses on new technology Rodriguez responds, "I can't stand sterile looking cinematography. I'm much more interested in a lens that has character and texture." He continues, "My work is all about story, pace, and feeling. I'm not into the showy stuff and thank god neither are my clients."
Contact Freddy Rodriguez at [email protected]